This week I stayed at the Shangri La Hotel in Santa Monica, CA.
First of all the hotel is set immediately across the street from the beach and ocean. Not only a prime location near the beach, but also walking distance to plenty of shopping, restaurants, and entertainment. A gorgeous deco gem which sits on the Pacific Ocean!
I arrived late and had a bit of difficulty determining where the parking lot was, as it is an easily missed driveway. I was a bit disappointed that the parking was valet only and $33 for overnight. But I guess that is typical for city parking. I asked about alternative parking and there is a large structure within walking distance which is about $18 overnight, and significantly less for shorter term parking. However, I would not suggest parking there if you have a lot of large suitcases and bags as it is on the next block.
The staff was friendly and check-in was quick and easy. The registration desk had comfy loveseats in front so you could sit while you check-in rather the the traditional stand-up counter.
The architecture of the building is amazing art deco style. I felt I was constantly looking around to take it all in. There are 2 elevators; one is a newer elevator and the other older, original one, which of course is a bit slower but adds to the vintage charm.
The halls are open to the outside and look out to a courtyard patio and pool area. Unfortunately, it was raining so I did not get a great look of the pool area but I imagine it would be a lovely place for a quick dip and to sun bathe. I am not keen on the open hallways as it has that 'motel' feel which for me is more of a safety concern. There were stairs to each floor and of course the elevator, which did not require a room key to access and really no security in the lobby/ front door. This is not always common in hotels, but typically in cities you expect this to some degree.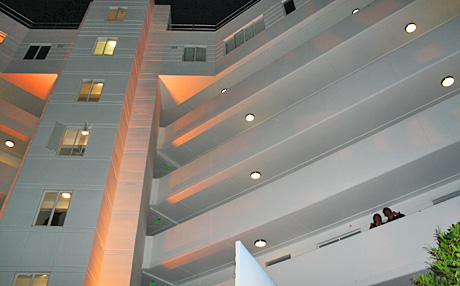 The room was amazing! Gorgeous crisp bedding and a very comfy bed. Curvy, round edged drawers with carved streamlined designs to maintain the deco style. The bathroom was enclosed in panes of glass and mirrors, which was a little dizzying but very elegant. There were paned windows that opened the tub to the bedroom area...quite sensual! The tub was deep and inviting, screaming for a bath to be drawn immediately. However, I was already late checking in and really had no time. My room was not facing the water but I had a peak out the window and a great view of the ocean just down the street.
The bell staff was friendly but a bit pushy about showing the 'features of the room'. This really was no necessary as there was nothing unexpected about the room besides the panel of dimmers to control all the lighting in the room. I was also eager just to get to my room, set my stuff down, and grab some food.
The restaurant on the first floor has had some excellent reviews but closes at 10pm so I missed that experience. I was lucky enough to have a cocktail at the roof top bar, although missed the outdoor rooftop view because of the rain. The inside bar area is a pink-lit room with cozy areas and low-seating to lounge. High shelves curve around the corners of the room and are lined with books. The furniture is upholstered in a lizard-look fabric with tweed patches.
I enjoyed a Pinky Punk martini which was delicious and sweet. Another interesting signature drink (for Scotch drinkers) is the Smokey Martini with Scotch which gives it a smokey flavor.
Check-out was also quick and easy. This was a quick trip for me and I wish I could have enjoyed more of the amenities. Overall, this is an excellent hotel to stay, probably more so for leisure than for business.