I love independent and boutique hotels, or at least small chain ones. It makes travel much more enjoyable. I have stayed at many but will try to keep up-to-date on my most recent and do some 'flashbacks' of ones I have stayed at so you get a review of those, too.
This week I was at the Belamar Hotel (a Larkspur Hotel) which is in Manhattan Beach (Los Angeles area), but is about 5 miles from LAX. So if you come to LAX and want to be near the airport, near the beach, and not by one of the 'airport' hotels (i.e. sound of jets flying over you all night), I recommend staying here.
It is a 4 Star hotel with very reasonable rates. They have just launched a rewards program called "Stash Rewards" with other independent hotels, so join that if you are a frequent traveler. The only drawback of this program is that you have to book through their website; therefore, if you are a business traveler and have a company travel site/agency you may not get the rewards.
My stay was only one night and I really like the location of this place because if has a residential look and feel, so less busily than the LAX hotels. Yet, you are so very close to the airport, too. They have complimentary valet parking which is always nice and friendly front desk and valet staff to greet you.
I had a queen room on the top (3rd floor) which was spacious. It has a nice closet area, mini fridge (not stocked), drawers, desk, and a spacious balcony. My room was overlooking the inner courtyard area. Some of the rooms were very close so you definitely want to draw the curtains at night (but who doesn't). There is lots of seating and a fountain in the courtyard and looks like a perfect place for a morning coffee or mid-day snack. The room is complete with robes and L'Occitane bath products. The only flaw is that my room did not have a flat screen tv, but hardly a drawback in my opinion. I also had a DVD player in my room. Rooms also equipped with free wired/ or wireless internet access.
I ventured to the "Second Story" which is an open restaurant and bar. It is accommodating for both large or small parties or even parties of one. A few tv screens to catch the news or sports event, and cool mod lighting. There is a M-F happy hour from 4-7pm. The wine/beer is about $4-5 and appetizers are typically less than $10. There is a regular dinner menu available, as well, and prices are $20-$30 for an entree (also available for room service).
The staff at Second Story were quick and friendly. I ordered the "First Class Chicken Wings" which were excellent; very crispy and very hot/spicy. The dressing was a gorgonzola cream which was heavenly and way better than ranch or bleu cheese. It only came with one small half-stalk of celery and the sauce was very hot, this would be the only drawback. It was a perfect size for 1 person.
I ordered the house chardonnay and had no complaints ,especially given it was only $4 for a generous glass.
I also ordered the "French Ginger Snap" martini as I am a big fan of ginger-flavored drinks. It was a bit disappointing as it mostly tasted of lemon and had bits of lemon in it, while the ingredients list Domaine De Canton, Absolut Citron, Fresh Lemon Juice, Triple Sec, Edible Flowers. Perhaps, they should change the name to something more lemony sounding. Specialty cocktails run $12 regular price.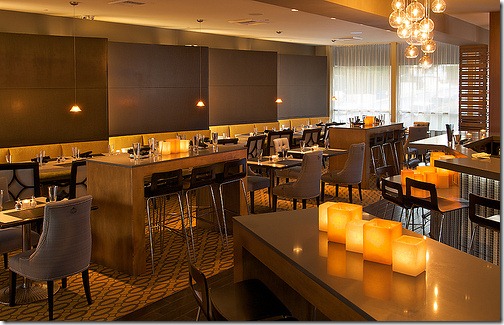 This is Second Story. Quiet but still a small crowd.